Greetings from Henley-On-Thames, home of the Henley Regatta.  We are at the end of our one-week whirlwind drive through Great Britain.   Call this a shake-down drive that has nothing to do with anything to come.   The reason for the shaking down is a new old car that Bernard purchased, a 1957 Bentley S1 saloon. And the reason I call this letter "nothing dram-atic" is because of what I've been doing on this trip in addition to splendid map reading.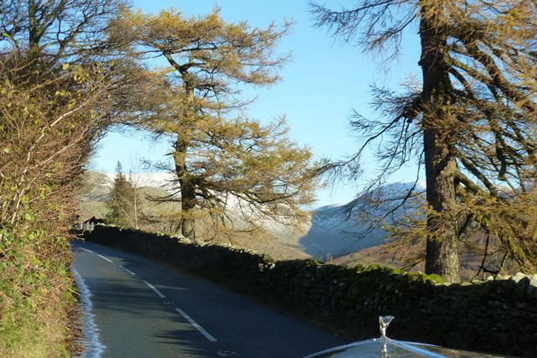 As you all know, I am not much into cars other than to sit on the passenger side (which in this car is on the wrong side, which confused me endlessly) and tell Bernard where to go.  Sort of.  
Having no driving responsibilities on this trip freed me to focus on something else:  Scotch.  Not the sticky type used to seal birthday presents.  The single malt kind.  And here's a very interesting personal fact:   I really don't like Scotch of any sort.  Oh.  Pardon me.  I should say single malt whiskey.  In any case, perusing the Bentley instrument panel engaged me for about 5 minutes.  Bernard was happy kicking tires, listening to engine sounds and ruminating on car handling.  I needed a mission. Which is why on the second day when we passed Edinburgh, I decided I should take advantage of being in Scotland to learn as much as I could about their principal export. And that, my friends, is how I wound up drinking eleven different single malts in seven days.
Anyway, where there's a car there must be a road trip and this one involved taking that Bentley down what turned out to be a plethora of picturesque country lanes bound like a corset by hedges and stone walls, on a thousand-mile journey through an astonishing amount of this island.   Up till now, Britain has meant London to me. Of course, I'm educated enough to know there's a country surrounding London, but honestly, I'd never seen any of it beyond a short but memorable day in Dorset visiting my friends Inga and Ram.  Well, let me tell you.  It's worth seeing what's been crammed into this small space. Why we ever severed ties with Great Britain is beyond me.  I could not say that the elegant deer-mouse grey Bentley hugged the sinuous curves of those dry-laid stone walls the way a flashy MG would have.  But no matter.  It suited the place to a "T".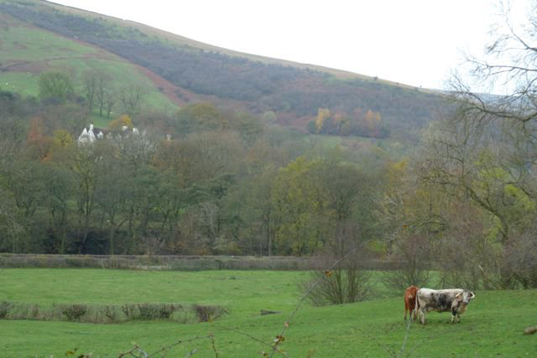 Our trip took us north from Manchester through the Peak District and the Yorkshire Dales to Durham, where I imbibed two drams of Dalwhinnie 16 year old single malt whisky. I liked it, at least relative to not liking it. Bernard looked on and marveled at my fortitude.   From there it was up to St. Andrew on Scotland's lower east coast. That evening I drank a couple of drams of Oban and Bernard pitched in with a glass of Glengoyne, but I drank most of it.  Most people know St. Andrew because of its association with golf, which I don't play.  More appealing to me is that the beach next to the golf course is where the fabulous running scene from Chariots of Fire was filmed.   We had only a brief moment after breakfast to indulge in fantasies, so all I could do was scuff some sand with my shoe, but I felt on hallowed ground none the less.
From St. Andrew we wended our way across the breadth of Scotland, stopping for elevenses at the Royal Hotel in the village of Crianlarich.  And on the wall of that grey stone building, with its white window frames and low-beamed ceiling,  was a photo of the squat Queen Victoria on a horse, the bridle held by her attendant and bodyguard John Brown.  The two were registered at the hotel on June 23, 1873, having stopped in for a visit while on tour from Balmoral!   I tried for a whisky in the place, but they would not serve me, as it was before noon on a Sunday.  And yes, you have read correctly that I was seeking to drink a Scotch before noon.  My time was limited and I had to get after it.
Onwards from there, we went into the high country, passing by the fabled peak of Ben Nevis, before descending to Ft. William on Scotland's west coast.  Ben Nevis is the highest peak in Great Britain, and the place where many aspiring Himalaya mountaineers go for climbing and training.  It's that rugged, rising over 4,000 feet from sea level. They even have a little ski area there, which I could only term "nice try."  That evening we went for dinner to Castle Inverlochy, where I sampled Lagavullan and drank most of Bernard's Cragganmore.   Awaking in Ft. William the next morning, there was a thick blanket of snow on Mr. Nevis and his neighbors, the first snow of the season… at least over here.
From Ft. William, we turned south, heading into Scotland's Lochs.  While we couldn't reach Ness we did go nearby to Loch Lomond.  Did anyone but me sing a song about "the bonny, bonny banks of Loch Lomond" as a kid?  So this, too, was hallowed ground.   I drove Bernard crazy singing that refrain over and over as the Bentley swooped over the narrow roads, past green swards dotted with plump white sheep, the trees russet and gold, the bracken a soggy slumped mass of rusty brown clinging to the slopes.   And then it was time for more Scotch.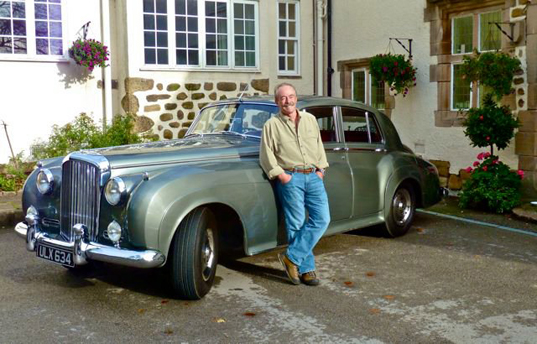 Being blessed with good fortune on this trip, in a manner of speaking, we passed through the seaside town of Oban, where the Oban distillery is located.  By now, Bernard had washed his hands of me and I was on my own, whisky-wise.   But I was resolute.  So when they said we'd missed the distillery tour, I figured it was fortuitous.  It gave me time to drink a wee dram of both Talisker and Highland, in the adjoining tasting room at around 12:30. A late lunch at a loch-side pub was sensational in the best sense, in that we had locally-caught haddock for our fish and chips.  When plates bearing great slabs of white haddock cloaked in a crisp golden beer batter crust were placed in front of us, we all rolled our eyes.  Of course we're not going to finish this, we said.  And then there was silence as we dug in, the fried batter a perfect foil for the succulent white fish.   No more was said until all plates were empty.  That night at Stonefield Castle on Loch Fyne my research showed me the merits of Balvenie.
Next day we had to cross the water twice, on small local ferries, part of the great fleet of ferries that span the lochs and the islands on Scotland's west coast.  The air was crisp and the sky sunny, thank goodness for seasick me.   Evening brought us to Lake Windermere, back in England, in the midst of the Cumbrian mountains.  This, I think, was our favorite area, which is no surprise as it's the place Beatrix Potter loved, too, and is home to her cottage: Hilltop.
The next morning we drove over Kirkstone Pass, where ice on the ground nearly was the end of us.  We made it to Far Sawrey, where Beatrix spent much of her time when not in London, paid a small but happy visit to Hilltop (again, hallowed ground) and then repaired to the neighboring pub, the Tower Bank Arms.  Inside, a coal fire produced great warmth and, since it was 15 minutes before they served lunch, I had time for a whisky:  Balvennie.   Then we tucked into two bowls of the best steak and ale stew I've ever had.  OK, it's the only steak and ale stew I've ever had.  But it was sensational.   As were the five locally produced sheep's milk cheeses that followed.  And then we headed down to Crewe, where I topped off a wonderful day with a Bowmore. And a facial. But not in that order.
Today being the last day of our drive, we were privileged to have a tour of the Bentley factory.  More on that another time.   And that's how I wound up in Henley-on-Thames just before dusk, drinking a Laphroig.  Tomorrow we leave the car at the service and storage garage where it'll live till I've gotten rid of this splitting headache that's been dogging me the whole time (I don't know why!), and head for London.   There are at least thirty more single malts that I've never tasted, and I do have a couple of days left before our flight home.   But, as I said, I don't like Scotch.  And when I'm at home, I rarely have a drink at all, though if I did you'd have to call me more of a bourbon girl.   As for my favorite single malt, if I ever were in a bar, or pub, and someone asked what I wanted, I'd said "Oban."
-Dina