The time has come, the Walrus said….
…to talk of many things, of country names and military games, of tribes and rebels and kings. We're off again, mid-February, to the wondrous land of Burma, aka Myanmar, bounded in the north by India and China, in the southeast by Thailand, the southwest by a sliver of Bangladesh, and with white sand beaches lapped by waves from the Bay of Bengal and the Andaman Sea.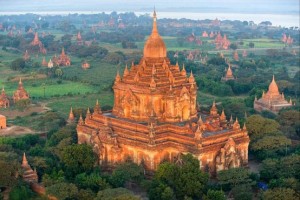 Allow me to tackle the "what shall we call it" issue straight on, if you don't mind. One important thing to know is that Burma is a land of many tribes and ethnic peoples, each with a different name. The government recognizes 8 distinct ethnic races, defined more by geography than related dialects, culture or actual ethnic affiliation; these in turn are subdivided into 135 groups. Many (most?) of the tribes~~ Chin, Kachin, Karen, Mon, ~~ do not subscribe to the Central Government. Some, like the Karen who recently signed a cease-fire, have rebel troops that have been fighting the government for years. Others, for example the Kachin, are still fighting. Here's a recent article on the ceasefires, if you're interested to know more. Given all these distinct peoples, you can see immediately that finding a name that's all-inclusive is difficult.
Continuing on with the name dilemma, some say that "Myanmar" is more encompassing and therefore better than "Burma," because the latter refers so obviously to the majority Bamar ethnic group who make up about two-thirds of the population. But here's something interesting: "Myanmar" is the literary form of Bamar while "Burma" is the colloquial form. They're two sides of the same coin and both have been in use in the country for a long time.
The name "Burma" of course has an association with British colonial rule, and many countries have rejected the colonial namings of their country. Thus we have Zimbabwe instead of South Rhodesia, Mumbai instead of Bombay. So, it's not without precedent that a government would change a country's name. What rankles is that a military regime ~~ a cruel and repressive dictatorship that seized power by ignoring the popular mandate that elected leaders from the National League for Democracy in 1990 ~~ declared the country's name to be Myanmar, (and Rangoon to be Yangon). The military imposed itself on the people and they imposed Myanmar on the country as well.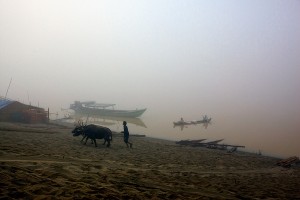 If you start looking up articles on the BBC or the NY Times, you'll find they use both Myanmar and Burma in every article. Even Aung San Suu Kyi has said there's something to dislike in each of those names. However, in solidarity with the democratic opposition, most everyone refuses to accept the imposed name change. I am eager to talk to people in-country, to find out how they feel about Burma vs. Myanmar. And of course, I'll pass along whatever I find out to you.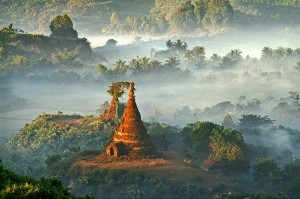 We will be in Burma for 4 weeks, during which time we'll journey to the jungly hills of the country's western regions. We're traveling mainly by car, with interludes on a boat when we have to go up the Chindwin River. After the boat portion we'll be sharing seats in a truck transport, to get to our furthest destination: the village of Lahe in the Naga Hills. Burma is still a country that issues permits for areas that are off-the-beaten-track. And since our travels always take us to the more remote areas we will have permits and a guide along. If you click here, you'll go straight to a map that will show you our route and each place we'll be stopping.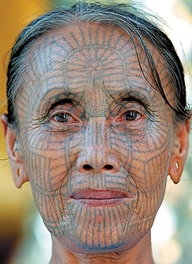 By sheer luck, the timing of our trip will put us in Mindat, east of Bagan, on the day of the Chin tribe annual festival. The Chin used to tattoo women's faces and there should be many such women at the festivities. We are also extremely fortunate to be able to go to the full moon festival at the religious shrine in the national park of Alaungdaw Khathapa. If our luck holds, perhaps we will cross paths with Aung San Suu Kyi, as she campaigns across the country prior to the April 1, 2012 by-elections.
There's no doubt this is an exciting time to be in Burma, as the country opens after decades of being firmly clamped down. One can only hope that the positive actions continue. I'll be sending dispatches and photos as internet connections permit, to share with you the details of the wonderful people and the strange foods I've encountered. If your friends and family want to get their own copy of my stories now's the time for them to sign up.