France and Italy



So many calories, such sinuous roads, such picturesque hamlets and pristine fields. If it's gorgeous it must be France, or the Dolomites, or places in between.
In this trip, we take La Serenissima (1958 Bentley) on a quick tour of off-the-beaten-track places in central Europe.
We must have stepped into a Fellini film……….
Yesterday I ate purple risotto, seasoned with blueberries and juniper. Last night we did a grappa tasting: four of 'em. I don't like grappa, especially when it's flavored with a large nob of pine needles. But we're in the stupendous Dolomites and grappa's the thing.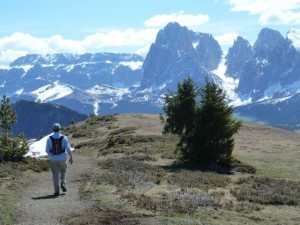 I need to brush up on my WWI history, because all these years it escaped me that the Alto Adige, whose Pinot Grigio I happily drink, was the same as South Tyrol, which 100 years ago was taken from Austria-Hungary and awarded to Italy. That is, after tens of thousands of deaths in fiercely fought battles around and through bleak and might mountain passes. However, few in the area seem to have noticed the transfer. I've dusted off my danke schon, burnished my buon giornio, and so can say something nice to everyone.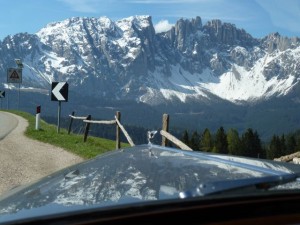 We're having a great time. One day, dedicated purely to outrageous driving, we took La Serenissima (Bentley) from Fie, near Bolzano, to Cortina d'Ampezzo. And back. We crossed seven passes: Nigra, Costalunga, Pordoi, Falzarego, Valperella, Sella and Gardener, some of them twice. I haven't been to the Dolomites in 30 years, Bernard has never been here, and we're both spellbound by the beauty. That, and the fact that in terms of perfect Tyrolean buildings and manicured fields, these guys have out-Swissed the Swiss.
But let's go back a couple days more, when we socialized for two hours with a dozen Alpini, members of various Alpine regiments. Most were near their seventies, on their way to Bolzano, where this weekend there's the annual reunion of Alpini from around the world, a mere 300,000 of them. But at noon on that sunny day, we all sat round a long, white-clothed table between their two campers, in the parking lot of the Alpe de Sciusi ski area near Fie/Vols. Behind us were the newly bare ski slopes, where Bernard and I had just hiked for 2.5 hours along a ridge which dropped 3,000 vertical feet to Val Gardena (taking a brief break to bound around with a huge, ebullient Bernese Mountain Dog).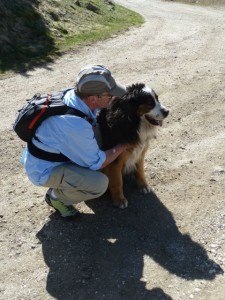 Now, in front of us, was a 5-gallon glass bowl filled with sangria…Italian sangria…which demanded attention. "Beve signora!" the Alpini cried. And I did. So did Bernard!! We began with Prosecco, made quick work of two glasses of that sangria (email me if you want the recipe). By the time grappa appeared in tiny plastic glasses, politics no longer mattered, as we alternated Italian drinking songs (ones about sin, sex and good-looking vs. ugly women) with opera. Since my Italian language capabilities are drawn mainly from Verdi and Puccini, I held my own!
Our whole trip has been filled with wonderful surprises. Here are some things I loved:
London: After collecting La Serenissima near London, we took the marvelous car train at Folkestone thru the Eurotunnel to Calais. Cars roll single file onto vehicle-only trains which depart every 30-45 minutes. Half an hour later, you drive off in Calais. We made an impromptu stop in Le Touquet, near Etaples-sur-Mer, for what turned out to be an exquisite bistro lunch of scallops with coral attached. In a cream sauce. With fresh asparagus. Oh my, my.
Paris: Some think the Ste. Chapelle and Pere La Chaise are the things to see in the City of Lights. It's not that I have a "been there, done that" attitude. Far from it. There are certain things in life one can never see enough of and the St. Chapelle is one of them. Still, this time around, we played locals, and therefore we did what the locals do, which for us meant bowling!!! We also shared meals, walks and museums with lots of family members, which made for a low-key, but warm and fulfilling time. That's not all. We fell in love with the 10th arrondisement, in particular the neighborhood along Canal St. Martin which is so convenient to where family live. Breakfast we occupied the corner table outside Chez Prune for coffee and baguette. Then we'd stop by the extraordinary bakery Du Pains et Des Idees, home of the exquisitely satisfying Pain des Amis. We ate fabulous meals at Le Vere Vole and La Brulle, plus, of course Prune itself.
Geneva: More family visiting, this time staying en famille instead of in a hotel. We were regaled with a barbecue of our favorites: a huge rib steak of a size one can only get in Europe, where cows are slaughtered at much older age than in the U.S., plus spicy merguez and luscious duck breast.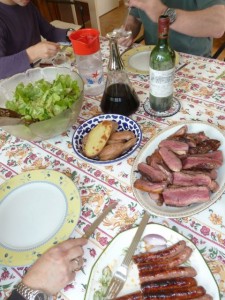 All washed down with the contribution of a properly dusty, aged bottle of burgundy. And followed by a sinful tart of fresh berries. Thank goodness I had a chance to work off that indulgence with a bicycle tour through the streets of Geneva. All of Geneva is now equipped with well-designated bike paths, next to which biketown USA, aka Boulder, Colorado, is woefully behind.
Le Noyer: South we went toward Gap, where we were welcomed by more family, who prepare for us a gratin au cardon, leg of sweet local lamb and a fantastic hike.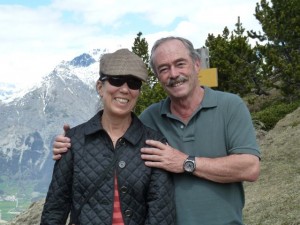 In this little-visited area of France, near Parc des Ecrins, there are refuges, passes and paths linking them, both steep and remote as well as pastoral and benign. I was most taken with the lovely countryside, so full of locally-made products like honey, sheep's milk cheeses, special sausages and more.
The uncertain weather didn't stop us from more hiking and from visiting the town of Gap, with its lovely pedestrian-only village center. Despite all the walking, eating and driving, we had time to visit with a local couple who use Provencal donkeys as pack animals for summer randonees. This is their newest foal: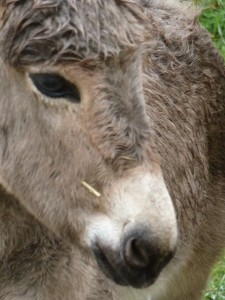 Then on to Italy!
Verona: Forget Juliet's balcony.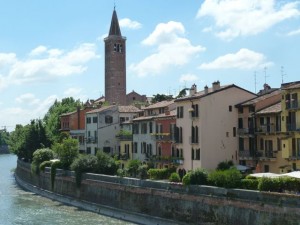 Just let me sit in the Prosciutteria Il Banco near the banks of the river Adige, and eat some more of their meltingly rich 42-month aged prosciutto. 16 and 24-month prosciutto just won't do anymore. Also high on the list of deliciousness was a soft polenta dotted with chunks of gorgonzola at Osteria Sottoriva, in the arched alleyway around the corner.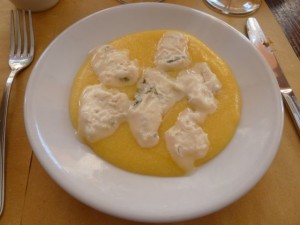 Alto Adige: A chance stop in Magre/Magreid, a movie-set of a hamlet along the Strada de Vino, revealed the premier tasting room of the area hidden up a slanted cobblestone street. There we discovered a wealth of grape varieties we'd never heard of, such a Lagrein, Malviesa and Schiava. We limited ourselves to trying eight of them, whereby we discovered that Gewurtztraminer can be dangerously palatable. And who knew that the town for which that grape is name–Tramin–was just around the corner.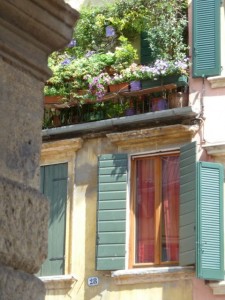 Fie/Vols: A charming town in South Tirol, where everything has two names: one in Italian and one in German. This village was so immaculate I was afraid to sneeze (yes, I've had a cold since London). The wisteria were blooming, the fields already being cut for hay and when we arrived a funeral was being held for a village elder, complete with women in black dirndls, men in short black coats, and several surviving elders playing those long horns that reach the cobblestones.
Speaking of hay, if you follow my dispatches you know I'm a sucker for local health rituals when I travel. Witness my fling with hair washing in Burma, that oil-drenched head massage in India and my I'll-never-learn desire to experience every country's pedicure. Fie beats them all with the hay bath: alpine grasses with 40 herbs (content, altitude and distance from road all government regulated) are steamed for 2 hours in a copper cauldron, then spread on a warm waterbed. Lie your naked body on the hot hay and try to relax as the remaining steamed grass mix is spread on top of you. You're swaddled in a cotton flannel blanket, sealed under a vinyl cover, and left to sweat for 25 minutes as the herbal melange leaches toxins from your system. It helps cure rheumatism. And when I was unwrapped, in truth, I had no rheumatism….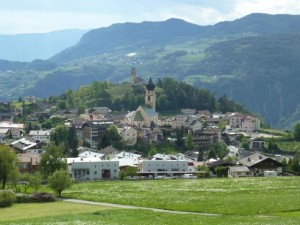 Now we are making our way to Lake Garda via the Brenta Dolomites and Madonna di Campiglio. We're driving through some of the prettiest countryside we've ever seen, into tiny crooked villages, past vineyards and staked apple orchards, over pale gray-blue rivers, and always either climbing, descending or winding through a sinuous length of hairpin turns. La Serenissima draws thumbs up and waves from many, and always has a crowd around her when we stop for a break.
It's mud season, thus most everything is closed. Except, thank goodness, a swell albergo on Passo Campo Carlo Magno (another pass!!) where we are the only guests. Thus we get the chef's undivided attention when it comes to homemade pasta, the above colorful risotto and that nearly endless round of grappa. We've been eating, hiking to an alpine lake and, just to prove that we can do more than eat, drive and hike… watching the Spanish Grand Prix.