Galapagos + Peru and Bolivia, January – March 2010

The cross-border glimpse we'd had of Bolivia two years before, when we drove through Argentina's Quebrada de Humahuaca, was all we needed to put it at the top of our list of  next places to go.  The obvious port to which to ship our car was Lima, which de facto added Peru to the trip.  After all, Bolivia's a land locked country, much to their continuing bitterness, and you have to arrive from somewhere else in order to get there.  We couldn't of course, ignore how close Lima was to Darwin's famous islands, at least relative to their closeness to our home in Colorado.  So we added the Galapagos to the trip, too.  You can see the detailed route on the map.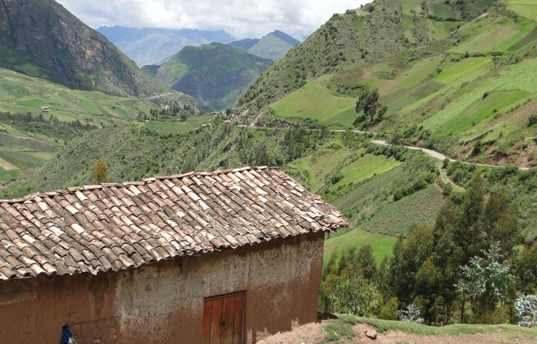 The Galapagos proved to be an entirely different level of marvelousness than I had imagined.  And I have a vivid imagination.  Nothing in my wildest dreams prepared me for that one week of getting up close and personal with iguanas, birds, seals, penguins and turtles.  It was nirvana, shangri-la, heaven, an experience that left me in equal measure exuberant and humble.
Our drive through Peru during the rainy season left me frazzled and exhausted.  There was the broad sweeping, often desolate remoteness and isolation of the back roads we chose to take, not to mention the sense that the entire country of Peru was constantly searching for a new angle of repose, one that would dump tons of liquid mud on top of us, launch boulders the size of a locomotive to smash us to a pulp or else start moving under our wheels, conveying us helplessly, like jet-lagged passengers on an airport conveyor belt, who knows where.
Bolivia was a blessing, being the opposite of Peru in every way.  But it, too, began to unnerve me, especially as we wended our way below gently steaming snow-clad volcanoes, past Inca burial chullpas whose vivid colors seemed not to have changed in 500 years, through hamlets where strips of deep red llama meat dried in the sun, fanned by the wings of thousands of black flies.  A few days in Bolivia's rawly elemental southern deserts driving for hours on shattering washboards made me question why I wanted to do such trips anyway.  But then we exited into Chile's Atacama Desert, I had time to learn how to milk a cow on a polo estancia, and after nightly feasts of meat gluttony in Buenos Aires was back to my old self.
My dispatches from the road are full of interesting details. To sign up for my Dispatches Newsletter click HERE. If you have questions about where we went and where we stayed, post below and I will reply.