India and Sri Lanka, February – March 2009

Having spent the previous winter in Patagonia, land of towering natural beauty, wide-open empty spaces and grilled meat heaven, we decided to do the polar opposite (no pun intended).  And what could be more different than India, land of teaming multitudes, most of whom are vegetarians?  Figuring out where to go in a country as vast, heterogenous and fascinating as India is tricky.  What if we focused on one area, only to learn that what we would have enjoyed more was another area?  When an email arrived inviting us to join in a group drive from the south to the north of India, it seemed just the thing.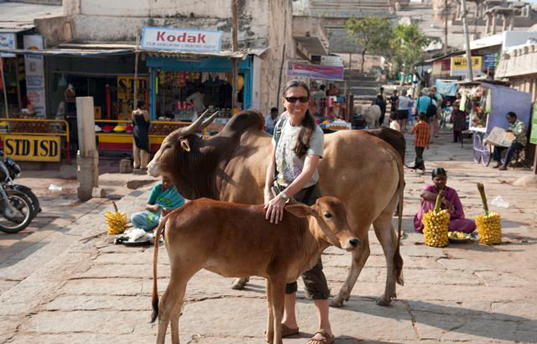 This would be a social rally, or what I eventually came to call a gin-and-tonic rally (for reasons which need no further explanation here), with only 10 cars rather than nearly 130 cars like on the Peking to Paris Rally. The plan was to drive from Kochi (Cochin) near the southern tip of the sub-continent, all the way to Mussoorie, north of New Delhi and in the foothills of the Himalayas. You can see the detailed route on the map.
We drove into the heart of India, through tiny villages of no interest to the average tourist. Sometimes we slept in the sorts of fantastical hotels India is known for:  palaces previously home to a maharajah or nawab.  Other times we camped on the edge of a river, next to a dry forest or near a weekend mountain festival.   Flat tires and dead starter engines put us in the capable hands of the local village mechanics, thus on a par with every other soul trying to keep their car, bike or motorcycle moving. And while we waited, we'd share our usual snack of tiny perfumed bananas and dime packages of biscuits with whoever came round to talk with us. We were magnets, the strange white faces in villages that never saw any.  At times we even ditched our vehicular transportation and hopped on a camel or bullock cart, to move through the countryside in sultry, open-air fashion.
Once the rally was over, we headed off on our own, to the hill stations of Darjeeling and Kalimpong, and the mystical, ancient ghompas of Sikkim.  From there we went even further east, eventually reaching India's border with Burma in the tribal hills of Nagaland. We shared the cook fire and smoky hut interior of a Konyak tribe family for several days.   Local workers smoked opium in a side room, the daughters pounded rice to their own rhythmic chanting, and their mother and I compared wedding rings and tattoos.
Not yet willing to say goodbye to the subcontinent, we made a short trip south to Sri Lanka, then embroiled in the last months of the brutal war against the Tamil Tigers.  Constrained to staying in the southern half of the country in order to be beyond reach of bullets, we sank into the languorous, humid island life, learning the basics of the spices and teas for which the island is famous, staring at supine buddhas, walking to World's End.
My dispatches from the road are full of interesting details. To sign up for my Dispatches Newsletter click HERE. If you have questions about where we went and where we stayed, post below and I will reply.