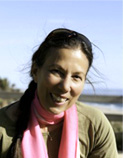 Hello. I'm Dina Bennett, also known as Dashboard Dina. I'm a grown-up tomboy, married to my soul mate, Bernard, a dashing Frenchman, who outdoes me in his passion for exploring.
In 2007 Bernard and I embarked on the 7,800-mile Peking to Paris Classic Car Motor Challenge. We drove a 1940 LaSalle, the rebuild of which nearly ended in divorce. And what fun would that be? In my book Peking to Paris I share the inside story of the race, and how I was brought to the brink of despair and back again trying to save the car, my confidence and my marriage from breaking down.
In truth I'm a daydreamer riddled with self-doubt. Yet I found myself in a car with my perfectionist husband, limping across the Gobi, Siberia and the Baltics, sidestepping rock-throwing Mongolians and locking horns with Russians left over from the Intourist era—not to mention getting a sandstorm facial. Quitting entered my mind. Often. Throughout the journey I nursed what seemed an absurd hope that the experience would turn me into a person of courage and patience.
Peking to Paris is a wild emotional ride. It's funny and self-deprecating, equal parts romance and adversity. And it's not just about an epic road trip. It's also a voyage of transformation, which I've written for every woman who's ever doubted herself and any man who's wondered what the woman traveling with him is thinking.
To read an excerpt from Peking to Paris, click here.