England and Scotland, November 2010
I've been to England many times. In fact, for a number of years my personal Fall treat was to fly to London for a short week packed with theatre and opera.  I know London well, love walking the city, have my favorite place to stay off the Old Brompton Road, feel scarily at home at the Kensington High Street tube station. As far as I knew, London was England, since I only once ventured outside the city boundaries, to visit a friend in Dorset.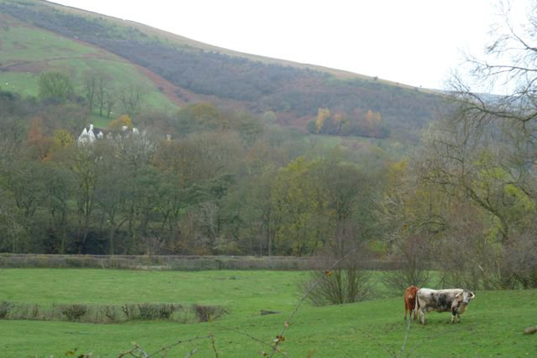 Of course I'm as smitten as anyone by the writings of the Bronte family and Jane Austen, the crime novels of P.D. James, the horse-centered mysteries of Dick Francis. I love the England of those books, but I'd never seen it.  There was always somewhere more pressing to travel, places more exotic, more compelling to see.  And after all, since it seemed to me that England had always been there I thought it always would. Which is why when Bernard proposed a short drive through the north country to test an old car he'd just bought, at first I thought "Why bother."
Then I came to my senses. You can see the detailed route on the map. It's not every day one gets to be chauffered down charming country lanes, to gaze over an endless ripple of low, dry-laid stone walls at fluffy white sheep grazing on emerald fields, to dig a toe in the cool sand of the beach at St. Andrews where Chariots of Fire was filmed, to visit the home of the author of "The Tale of Peter Cottontail," to sample an astounding number of single malt whiskeys and live to tell about it.
My dispatches from the road are full of interesting details. Sign up HERE for my Dispatches Newsletter. If you have questions about where we went and where we stayed, post below and I will reply.
You can also take a look at my husband Bernard's gorgeous photos from our travels. Click here to view his site.